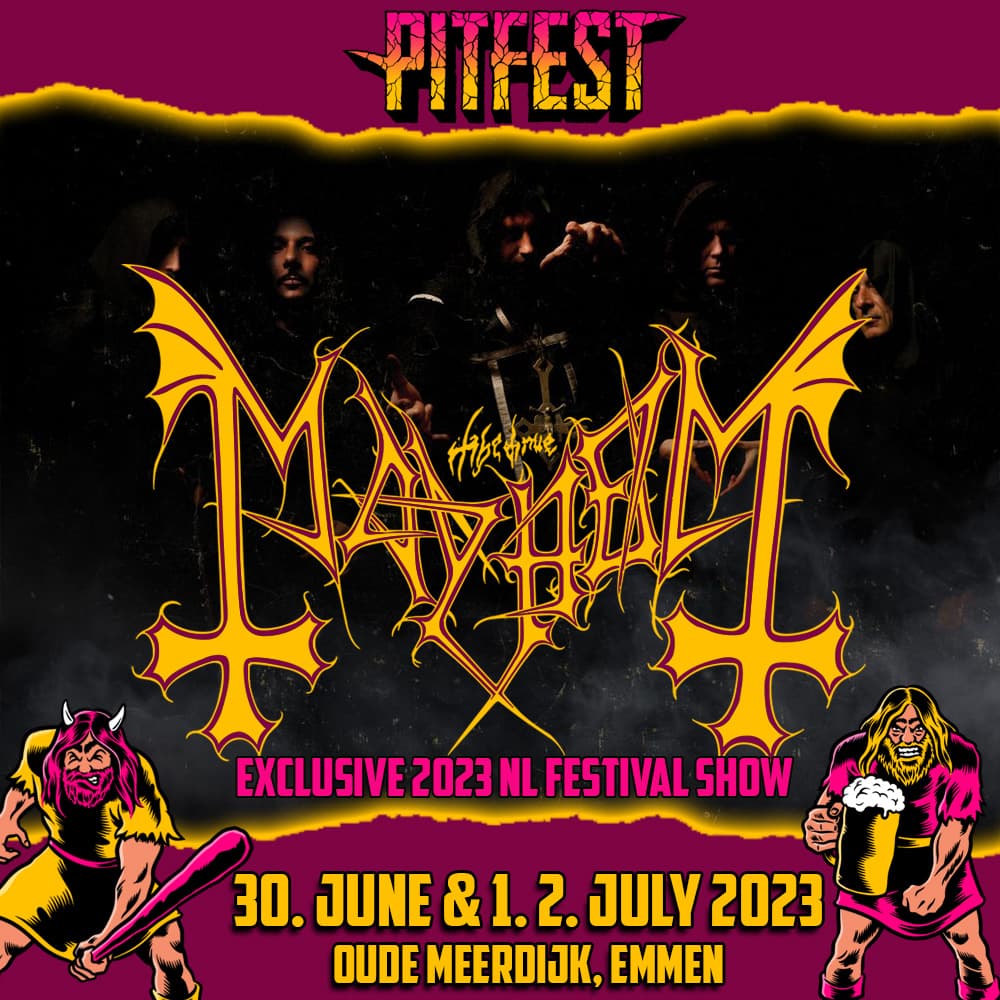 Mayhem (NOR)
Exclusive 2023 NL festival show!
The single most notorious and important band in the history of black metal will come to Pitfest 2023 for a 2023 Dutch exclusive festival show!
Founded as early as 1984 in Oslo, Norway by the late and legendary frontman Øystein Aarseth aka Euronymous, bassist Jørn "Necrobutcher" Stubberud, and Kjetil "Manheim" Haraldsson on drums, the band took its name from the VENOM song "Mayhem with Mercy". Continuing and renewing the Black Metal style heralded by the latter English trio, MAYHEM soon became the instigators of the so called second wave and were at the heart of every controversy surrounding that genre.
The suicide of misanthropic frontman Per Yngve "Dead" Ohlin, the murder of Euronymous by guest bass player "Count Grishnakh" alias the notorious Varg Vikernes, church burnings, drugs and prison sentences – MAYHEM were always at the centre of the storm. Yet not even death could stop the Norwegians, who released one musical milestone after another.
The incredible rawness of the "Deathcrush" EP (1987) was followed by the still iconic and genre defining "De Mysteriis Dom Sathanas" (1994), which featured devilish drummer Jan Axel "Hellhammer" Blomberg, who had joined in 1988. The vocalist on this album was the Hungarian Attila Csihar of TORMENTOR fame, who returned later in 2004 to take over from his meantime heir, the enigmatic original singer Sven-Erik "Maniac" Kristiansen. The latter was featured on the "Wolf's Lair Abyss" EP (1997), which was written mostly by highly talented guitarist Rune "Blasphemer" Eriksen, who scored a massive artistic success with the highly controversial "Grand Declaration Of War" (2000). This was followed by the more classic "Chimera" (2004) and that masterpiece of utter darkness called "Ordo Ad Chao" (2007) with Attila singing again, which inspired many bands to follow in its tracks.
MAYHEM had always witnessed many line-up changes due to the circumstances described above. Therefore even the loss of Blasphemer, who decided to focus on his other band AVA INFERI in 2008, did not stop the band. Activities mainly revolved around live shows, until the right balance was found again with the recruitment of Morten "Teloch" Iversen. The guitarist had already made a name for himself with NIDINGR, which is highly regarded amongst black metal enthusiasts yet remained mostly an underground phenomenon.